A very high performance PC for the professional photographer
This system has been designed from the ground up to offer outstanding performance in Adobe Photoshop CC and Adobe Photoshop Lightroom CC applications and also perform very well in video editing tasks too. We've taken the already blistering performance of the Professional Photography PC and added more storage and a higher performance graphics card.  This configuration helps the computer cope better with some GPU acceleration of effects on enormous image sizes. Little else can be gained regarding raw system performance as the components used in this build represent the pinnacle of current technology.
The PC retains the Be Quiet Dark Base 900 chassis from the Professional system as it offers excellent potential for installing additional drives and is exceptionally well built. The system can accept a total of 6 SATA drives (your optical drive counts as one) by providing capacity for 6 in any combination of 3.5″ or 2.5″ drives. We also retain the superb Gigabyte Z390 AORUS Ultra motherboard as it supports 3 x M.2 high-performance SSDs and offers excellent connectivity. In total, you can use six storage drives in this system including the optical drive. This computer is installed with a 512GB Samsung 970 PRO M.2 NVMe SSD as the primary drive for your OS and program files. The second 2TB Samsung 970 EVO M.2 NVMe SSD is ideal for use as your Lightroom catalogue and the working 'scratch' area to boost performance for your 'work in progress files'.  Finally, 2 x SEAGATE Ironwolf Pro 12TB hard drives can house your full image catalogue: (24/7 rated, 5 years warranty, 300TB/year workload rating) – Register for 2yrs FREE Data Recovery on www.seagate.com/register. It is also possible to configure a further two 3.5″ or 2.5″ storage drives. To add further storage drives to your PC in the configurator, hit the 'Add Another' button to the right-hand side of the primary storage drive header. Alternatively, contact us for a quote with additional storage options.
This system uses the Intel Core i9-9900K which is an 9th Generation Intel processor. These processors offer a leap in performance over the 7th and 8th generation processors by providing more processor cores and higher clock speed. The i9-9900K is as good as it gets for Photoshop and Lightroom use. Video editing also benefits from the inclusion of the i9-9900K due to its 8 six physical processor cores and 16 threads, so this will be a welcome benefit to those undertaking some video work as well.
This system keeps the 64GB of memory from our professional photography system. This is currently the maximum we can install on an 8th/9th generation system motherboard. 64GB is ideal for handling the largest images with multiple layers. The 64GB of memory also enables high-resolution 4K video editing to be undertaken on this system.
Check out our blogs on photography PC system performance to find out more about our R & D and learn how to specify your ideal photography PC.
Supports Thunderbolt 3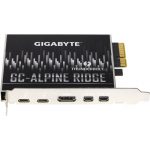 Install up to 6 3.5" Hard Drives for up to 72TB Storage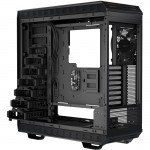 Understated and professional chassis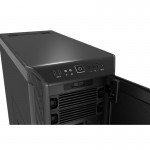 Specifications
Processor
Intel Core i9-9900K 3.6Ghz Eight Core CPU
Max Turbo Frequency 5.0Ghz
Cache: 16MB
Corsair H100x Liquid Cooler Installed
Memory
64GB DDR4 3000Mhz Corsair RAM
Dual Channel – 4 x 16GB
Supports up to 64GB
4 x DIMM sockets (4 Used)
Hard Drives 
512GB Samsung 970 PRO M.2 SSD – Primary C: drive with OS loaded
2TB Samsung 970 EVO M.2 SSD – D: Drive
2 x 12TB Seagate Ironwolf PRO 3.5″ HDD – E: Drive & F: Drive – (24/7 rated, 5 years warranty, 300TB/year workload rating) – Register for 2yrs FREE Data Recovery on www.seagate.com/register
The two 12TB drives can be configured in RAID to a single 24TB volume – E: Drive
3 x M.2 sockets, 1 free
6 SATA Ports, 1 free (2 Used for the 12TB HDDs, 1 Used for Blu-Ray, 2 unavailable due to M.2 Usage)
SATA ports 5 & 6 become unavailable due to the inclusion of the M.2 PCIe cards
Optical Drive
Asus BW-16D1HT Blu Ray Writer
2 x Optical Bays, 0 free
Card Reader
Multi Card Reader – Akasa Interconnect EX
Support for SD Cards, Memory stick and Compact Flash
Provides an additional 4 x USB 3.0 ports at the front of the PC
Software
Windows 10 Home 64-bit
Clean install, no additional software
Chipset
Display Outputs
4 x mini-DisplayPort
Supports up to 4 monitors at once
Supports HDCP
Graphics
AMD Radeon Pro WX8200 8GB Professional GPU with 10 bit colour
Audio
High Definition Audio, 5.1 or 7.1 channel
Audio provided by Realtek ALC1220-VB Audio Chip on the motherboard
Input Devices
No Keyboard or Mouse Included
Wired Networking
1 x Intel 10/100/1000 LAN (Gigabit)
Wireless Networking
Intel CNVi Wireless-AC 9560
Speeds up to 1733mbps
Bluetooth 5.0
Power Supply
650 watts
Over 87% efficiency
Dimensions
Height: 585mm
Width: 243mm
Depth: 577mm
Interfaces
6 x USB 2.0 Port (2 front, 4 rear)
8 x USB 3.1 Port (6 front, 2 rear)
4 x USB 3.1 Gen 2 Port (1 x Type-C & 3 x Type-A at the rear)
1 x RJ-45 Ethernet Port
2 x Thunderbolt 3 Ports 40Gb/s Bi-Directional Bandwidth
6 x Audio Jacks at the rear including S/PDIF out
2 x Audio Jacks at the front
4 x mini DisplayPort on video card/li>
Note the display outputs from the motherboard are disabled when a graphics card is installed
Expansion
3 x PCI-e x 16 Slots, 2 free (1 x Used for video card)
3 x PCI-e x 1 Slots, 1 free (1 x used for USB card, one obscured by GPU)
Case
Be Quiet! Dark Base 900 Black ATX Case
2 x 140mm pre-installed fans at the front
1 x 140mm pre-installed fan at the rear
Space for 8 additional 120/140mm fans
Space to accept 120/140/240/280/360mm liquid coolers
Warranty
3 Year Return to Base parts and labour
1st 30 days collect and return at our expense