High performance for professional video editing
Our high end plus system includes a chassis upgrade to the superb quality Be quiet Dark Base 900 which is one of the best quality system chassis on the market.  It has a huge amount of space for your high end equipment and supports a large number of storage drives.  Cooling is superb yet very quiet, ideal for video editing.
We also take the leap into professional grade graphics solutions by using NVidia Quadro cards.  The Quadro solutions offer improved performance by offering far larger amounts of video memory per GPU and Quadro drivers are optimised for professional computational use rather than games.  The on-board memory is ECC (error checking and correcting) which is important as the card is being used for millions of mathematical calculations.  If any errors creep in, they will be detected and corrected.  The cards are also produced to much better tolerances with only the best and most stable silicon used on the Quadro range.
Quadro graphics cards also support 10 bit colour, Geforce cards only support 8 bit colour so if you are working in 10 bit with HDR, choose a Quadro solution.  The Quadro drivers are better supported across Premier Pro and Da Vinci Resolve and will prove more stable and reliable long term.
The motherboard also gets an upgrade to the Gigabyte X299X AORUS Master which includes three of the high performance M.2 slots which will allow you to upgrade the storage later.  The board also supports Thunderbolt 3 and the system includes a Thunderbolt card with two ports.  This board features a higher number of USB ports, 2 of which are the new high speed USB 3.1 Gen 2 variety.
Storage is also improved with the use of 2 x 12TB Seagate Ironwolf Pro drives (24/7 rated, 5 years warranty, 300TB/year workload rating) – Register for 2 years Data Recovery.  These drives are heavy duty server grade and can be configured as RAID 0 if required to improve performance and be seen as one 24TB drive by the OS.  Seagate's pro range of drives also include their disaster recovery service for 2 years.  Should your HDD fail, Seagate's recovery partner will attempt to recover the data on the drive.
The 1TB Samsung 970 PRO scratch drive offers the highest performance currently available. While the ADATA SX8200 and Samsung 970 EVO drives are also high performance products, they operates an SLC caching model which utilises a relatively small portion of SLC storage v regular NAND. Once the SLC cache becomes full (after writing around 13GB in one session), drive performance drops by around 85%. The 970 PRO on the other hand is made entirely from a special type of SLC memory which Samsung term as V-NAND so performance remains at 100% no matter how much is written to the drive in one session. This is very important for the professional video editor.
The power supply is upgraded to an 850w model which will allow scope for additional upgrades in the future.  The processor cooling is also a very high performance model being the Corsair H150i Pro 360mm liquid cooler, which offers lower CPU temperatures and lower noise levels  The operating system is also upgraded to Windows 10 Professional which will allow domain join in corporate networks or the ability to join Microsoft Azure networks.
Take a look at our blogs to find out more about how your choice of PC components affects your overall system performance in Premier Pro.
Quadro Professional Graphics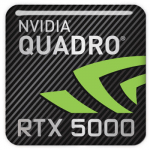 Versatile hard drive storage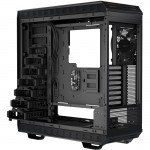 Processor
Intel Core i9-10940X 3.3Ghz 14 Core CPU,
Max Turbo Frequency 4.8Ghz
Cache: 19.25MB
Corsair H150i Pro 360mm Liquid Cooler Installed
Memory
64GB DDR4 3200Mhz RAM
Quad Channel – 4 x 16GB
Supports up to 256GB
8 x DIMM sockets (4 Used)
Hard Drive
512GB ADATA SX8200 PRO NVMe M.2 SSD
1TB Samsung 970 Pro NVMe M.2 SSD
3 x M.2 sockets, 1 free
2 x 12TB Seagate Ironwolf Pro 3.5″ Hard drive (24/7 rated, 5 years warranty, 300TB/year workload rating) – Register for 2yrs FREE Data Recovery on www.seagate.com/register
8 SATA Ports, 5 free (3 Used for Blu Ray & 2 x 12TB HDD)
Optical Drive
Asus BW-16D1HT Blu Ray Writer
2 x Optical Bays, 1 free
Software
Windows 10 Professional 64 bit
Clean install, no additional software
Chipset
Display Outputs
4 x DisplayPort 1.4
1 x HDMI adapter included
1 x DVI-D adapter included
Maximum resolution via DisplayPort – 7680 x 4320
Supports up to 4 monitors at once
Supports HDCP
Graphics
NVidia Quadro RTX5000 16B
Audio
High Definition Audio, 5.1 or 7.1 channel
Audio provided by Realtek ALC1220-VB Audio Chip on the motherboard
ESS SABRE9218 DAC chip
Input Devices
No Keyboard or Mouse Included
Wired Networking
1 x Aquantia 10/100/1000/2500/5000 LAN (5Gbit)
1 x Intel 10/100/1000 LAN (Gigabit)
Wireless Networking
Gigabyte Wireless AC 2400Mbps Wifi with Bluetooth 5.0
Power Supply
850 watts, Corsair TX850M high efficiency (87%) Gold, Modular.
Dimensions
Height: 585mm
Width: 243mm
Depth: 577mm
Interfaces
4 x USB 2.0 Port (2 front, 4 rear)
8 x USB 3.1 Port (2 front, 6 rear)
2 x USB 3.1 Gen 2 Port (1 rear Type-C & 1 rear Type-A)
2 x RJ-45 Ethernet Port
2 x Thunderbolt 3 Ports 40Gb/s Bi-Directional Bandwidth
6 x Audio Jacks at the rear including S/PDIF
2 x Audio Jacks at the front
4 x DisplayPort 1.4 on video cards
1 x DL-DVI via adapter
1 x HDMI via adapter
Note the display outputs from the motherboard are disabled when a graphics card is installed
Expansion
4 x PCI-e x 16 Slots, 1 free
0 x PCI-e x 1 Slots
Case
Be Quiet! Dark Base 900 Silent Black ATX Case
3 x 140mm Pre-installed fans
Space for 4 additional 120/140mm fan
Space to accept 120/140/240/280/360mm liquid coolers
Warranty
3 Year Return to Base parts and labour
1st 30 days collect and return at our expense