High performance for professional V-Ray and 3Ds Max
This system superb performance in applications requiring both CPU and GPU rendering.  Use our configurator to tune your system according to your requirements.  The processor and GPU set up offer some of the highest performance available and the 64GB of memory is ideal for handling complex workloads.
The 2 x 12TB hard drives can be configured to operate in RAID 0 to boost performance and offer one 24TB volume.  The 2TB Samsung 970 EVO scratch drive and 512GB 970 PRO application drive are the best performing drives on the market.
Our choice of chassis is key to the innovative design of our bespoke PC systems
V-Ray and 3Ds MAX are particularly intensive on GPU compute which is why we have equipped our Professional V-Ray workstation with the highest performing GPU currently on the market.  Performance of the latest Turing core Quadro RTX6000 24GB GPU is roughly equal to 2 x Quadro P6000 cards. Our PC systems are built using industry-standard components for reliability and upgradability. This high-performance system is made using a quality chassis which includes space for up to 6 hard drives or SSD drives and up to 2 optical drives plus two high-performance M.2 SSD drives.
The Be Quiet! Dark Base 900 chassis provides a professional grade workstation chassis that is clean and uncluttered. Its a true pro chassis made from the best materials and is designed to house the highest performance components and keep them cool. The inside of the chassis side panels are lined with noise isolating materials to reduce noise and vibration. We also equip this chassis with 3 x 140mm SilentWings 3 cooling fans which ensure your PC components are adequately cooled while their low noise design ensures the system remains quiet.
This system has 8x USB 3.1 ports, 2xUSB 3.1 Gen2 ports and 4 USB 2.0 ports. At the front of the chassis, there are 2 x USB 3.1 ports and 2 x USB 2.0 ports. At the back of the system there are 6 x USB 3.1 Gen1 ports, 2 x USB 3.1 Gen2 ports (1 x USB 3.1 Gen2 Type-C and 1 x USB 3.1 Gen2 Type-A) and 2 x USB 2.0 ports.
Chassis dimensions are: 243mm (W) x 585mm (H) x 577mm (D)
Soundproofing on the inside of the chassis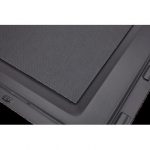 Versatile hard drive storage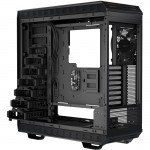 Understated and professional chassis