Product Description
High performance for 1080p and occasional 4K video editing
Our entry plus video editing PC offers a big step up in performance over the entry system. Firstly, the processor upgrade to the i7-8700 offers a useful performance boost. The i7 features hyper-threading technology and offers 12 virtual cores which in itself offers around 20% performance uplift over a non-hyper-threading processor such as the i5-9600k even though the processor frequency is the same. The system memory also doubles to a useful 32GB which is essential for editing 4K even for basic and relatively short clips. The storage is also greatly improved with separate drives for the OS and applications. Performance is improved via the use of the faster NVMe type SSD drives.  Use the primary SSD for your OS and application installations and the second SSD for your scratch area and Premiere Pro cache.  There is also a useful 4TB archive drive for your completed works.
The graphics is also upgraded to the GTX1060 6GB.  The additional video memory is useful and the increased processing power of the GTX1060 helps speed up GPU accelerated tasks in Premier Pro.
The Corsair 100R chassis offers excellent potential for installing additional drives.  The system can accept a total of 4 SATA drives by providing capacity for 4 in any combination of 3.5″ drives 2.5″ drives. Also, the motherboard we use can support 2 x M.2 high-performance SSDs so in total you can use six storage drives in this system.  To add further storage drives to your PC in the configurator, hit the 'Add Another' button to the right-hand side of the primary storage drive header.  Alternatively, contact us for a quote with additional storage options.
This PC also includes high performance WIFI and Bluetooth with the latest dual band wireless AC technology which is able to achieve speeds of up to 1733Mbps.
This system is aimed at those editing in 1080p and QHD (1440p) with a small amount of work in 4k occasionally.  Take a look at our blogs to find out more about how your choice of PC components affects your overall system performance in Premier Pro.
Soundproofing on the inside of the chassis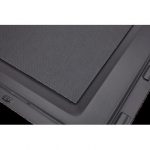 Versatile hard drive storage
Specification
Processor
Intel Core i7-8700 3.2Ghz Six Core CPU,
Max Turbo Frequency 4.6Ghz
Cache: 12MB
Be Quiet! Pure Rock CPU Air Cooler Installed
Memory
32GB DDR4 2666Mhz RAM
Dual Channel – 2 x 16GB
Supports up to 64GB
4 x DIMM sockets (2 Used)
Hard Drive
240GB ADATA SX8200 NVMe M.2 SSD
2 x M.2 sockets, 1 free (1 used for the ADATA Drive)
512GB ADATA SX8200 NVMe M.2 SSD
4TB Seagate BarraCuda 3.5″ Hard drive
6 SATA Ports, 4 free (2 Used for DVDRW & 4TB HDD)
Optical Drive
Asus DVD Re-Writer, SATA, 24x, M-Disk Support
2 x Optical Bays, 1 free
Software
Windows 10 Home
Clean install, no additional software
Chipset
Display Outputs
3 x DisplayPort 1.4
1 x HDMI 2.0b
1 x DL-DVI
Supports up to 4 monitors at once
Supports HDCP
Graphics
Audio
High Definition Audio, 5.1 or 7.1 channel
Audio provided by Realtek ALC887 Audio Chip on the motherboard
Input Devices
No Keyboard or Mouse Included
Wired Networking
Wireless Networking
Intel Wireless-AC 9560 via CNVi Module
Speeds up to 1733mbps
Bluetooth 5.0
Power Supply
Dimensions
Height: 430mm
Width: 200mm
Depth: 471mm
Interfaces
1 x PS/2 Keyboard or Mouse Port
2 x USB 2.0 Port (rear)
5 x USB 3.1 Port (2 front, 3 rear)
1 x USB 3.1 Gen 2 Port (1 rear)
1 x RJ-45 Ethernet Port
6 x Audio Jacks at the rear
2 x Audio Jacks at the front
3 x DisplayPort 1.4 on video card
1 x HDMI 2.0b on video card
1 x DL-DVI on video card
Note the display outputs from the motherboard are disabled when a graphics card is installed
Expansion
2 x PCI-e x 16 Slots, 1 free (1 x Used for video card)
4 x PCI-e x 1 Slots, 2 free (1 obscured by video card, 1 used for wifi card)
Case
Corsair Carbide 100R Silent Black ATX Case
2 x 120mm Pre-installed fans
Space for 3 additional 120mm fans
Space to accept 120mm or 240mm liquid coolers
Warranty
3 Year Return to Base parts and labour
1st 30 days collect and return at our expense